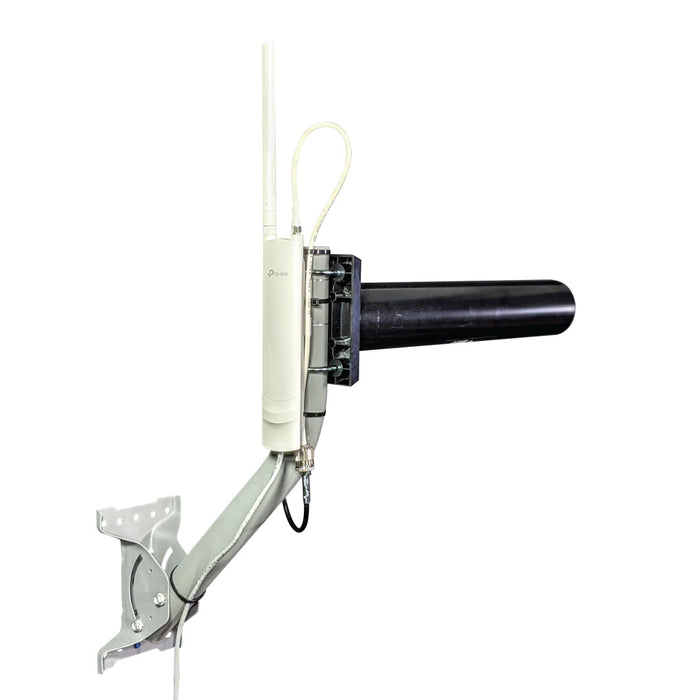 PiFi Outdoor WiFi Extender Solution
Share Internet from Inside to Outside!
Extend your wifi coverage from inside your home to outside!
Works for all internet providers, routers, modems, and wifi devices.
Selected kit includes all parts for installation
Easy setup: better signal outdoors
Share internet from inside a home or building to outside!
The PiFi Outdoor WiFi Extender by Simple WiFi is an access point that shares your internet from inside to outside.

Simply install the PiFi Outdoor WiFi Extender outside your home or building and connect to an existing router with internet service with our included 100 feet of CAT6 ethernet cable.

The PiFI Outdoor WiFi Extender will then broadcast signal outside to a location that has no or limited internet access.
2.4 Outdoor Antenna Type & Range:
Whip Antenna:  Up to 100 yards.
Omni Antenna: Up to ¼ mile.
Yagi Antenna: Up to ½ mile.
Great option for people needing wifi in an outdoor location such as farm, pool, patio, yard etc., sharing internet with a neighbor or family member, or broadcasting from an RV campground with an internet source.
Extends your WiFi signal from inside your home to outside up to ½ mile!
No more weak signal, because you're bringing reliable signal to you!
Faster wireless speeds for you phone, computer, and wifi devices.
Easy installation: Just need a plier wrench and simple handyman skills.
Better signal today: Get internet where you couldn't before.
Original price
$249.00
-
Original price
$399.00