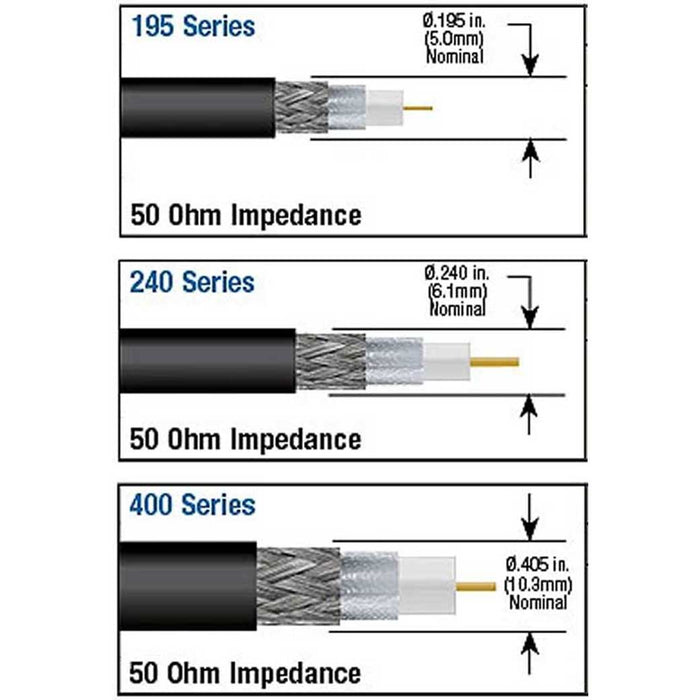 Cable for WiFi & Cellular (L-400)
Coax & Ethernet Cables: Pre-Sized or Custom
In-house USA-made cables made by SimpleWiFi!

Works for WiFi, cellular, or any RF accessories  like antennas, adaptors, hotspots and more
Custom-length option available
WiFi Cables & Cellular Cables: For Antennas, Accessories, and Devices Such as Hotspots & Signal Boosters.
Coax and ethernet cables. Often overlooked, yet the most vital part of long-range networking link.

Choose the right cable type with the right connector at the right length can significantly impact the performance of your connected system.

Because RF (radio frequency) signal is passing from the radio (router, hotspot, USB adaptor, signal booster, etc.) to the antenna, it inevitable loses signal strength over cable run, especially for coax cables.

This is called attenuation. To combat this issue:

Use the shortest cable run as possible.

The thicker the cable insulation, the better signal is maintained through your network.
So which cables right for you? In general:
Best:  L-400 Coax, CAT5E
Better: L-240 Coax

Good: L-195 Coax
Original price
$49.00
-
Original price
$224.00